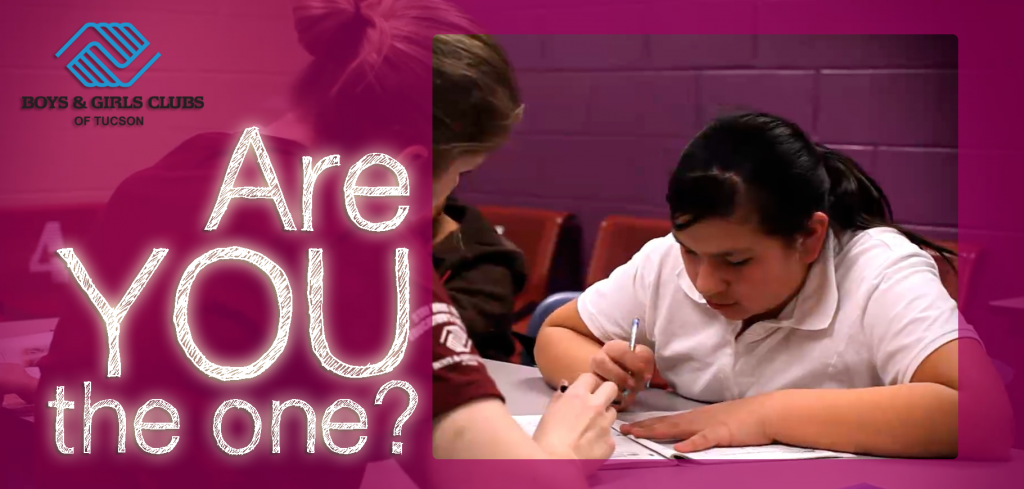 Spend your time making a difference in the lives of youth in our community!
Boys & Girls Clubs of Tucson welcomes volunteers over the age of 18 who will dedicate their time, talents and energy in support of the Tucson area youth. If you have one hour a day, one hour a week, or several hours, we have volunteer opportunities for you to be involved in that will provide a rewarding experience for you and the youth!
We have the following volunteer opportunities at any of our Clubs (click on the links to learn more about each opportunity):
We also have volunteer opportunities in our Administrative Office.
---
If over the age of 18, you can apply online by clicking here, download a printable version of our Volunteer Application or contact Juliet Yardy via email: volunteer@bgctucson.org with details on your interests and talents. We will check your interests against our clubhouse needs and contact you regarding opportunities available. All who are under the age of 18, contact the director of the clubhouse where you intend to participate.
So, What happens next?
Once your completed application is received, our Volunteer Coordinator, Juliet Yardy will contact you to complete the registration and orientation process. Generally our volunteers are approved in a matter of one to two weeks' time, depending on background check and reference follow up.
Links to Application and Contact Information:
Apply Online: Online Application

To Print: Download our volunteer application Complete and Return to our Adminstration Office:
Mail Address: Boys & Girls Clubs of Tucson P.O. Box 40217, Tucson, AZ 85717.
Hand Delivery Address: Harold Ashton Resource Center, 3155 E. Grant Rd. (northeast corner of Grant & Country Club on the Doolen Middle School campus).
THANK YOU to ALL of our dedicated Volunteers!
Save
Save
Save
Save